Hollow Earth is currently playing:
Welcome
We are an online (streaming only) diy radio operating out of an attic public space in Seattle's Central District. We feature found sound, field recordings, story-telling, dream-collecting, radio plays, live house shows, local in-home performances and content given to us BY YOU. We support local and northwest music and other underground music from around the world. We broadcast 24 HOURS A DAY everyday.
Featured Show
the thad wenatchee & his rad comrades show
every sunday from noon to two pm, pacific standard time
thad wenatchee

Program Description: the thad wenatchee & his rad comrades show movements forming opinions. grooves for the process, clips for the fade, shakes for the morning, breakfast with the babes; needles for the movement, the circles set the pace, sounding rather superfluous, noon to two every sunday. : TO SUBMIT MUSIC TO THE PROGRAM : send me any and all types of music to the station c/o thad wenatchee or send links and such to my e-mail address thad.wenatchee@gmail.com

Donate Some Dough And Get A Rad Hollow Earth Radio Tshirt Designed by Shana Cleveland (of La Luz)
Make a $15 donation (OR MORE) to Hollow Earth Radio and get yourself an awesome t-shirt, featuring the sure to be a classic Hollow Earth Radio Magma Festival 'When's It Gonna Blow?' image illustrated by Shana Cleveland (of La Luz. Also includes subtle advertising for the Hollow Earth Radio voicemail number (to leave drunk dials, PSA's, dreams, paranormal encounters, etc. 206 588 KHER). If you donate $15 you should expect to get a shirt in the next 4-6 weeks. Shirts come in Wow Pink, Baby Blue, and Mellow Yellow. Get one here.
Hollow Earth Radio Blog


Posted By DJ Garrett on 03/07/2013 at 06:41PM
Heads up high school seniors in Oregon/Washington - Sub Pop Records is offering a "Loser" scholarship to use towards "full-time enrollment at an accredited college". Take the money and run.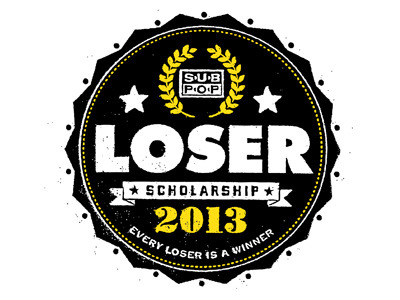 Full press release:
Hey there!
Sub Pop Records in Seattle, WA is offering a grand total of $13,000 worth of college scholarship money to three eligible high school seniors. There are three scholarships—one for $6,000, one for $4,000 and one for $3,000. To apply for these scholarships you must be a resident of Washington or Oregon, and a graduating senior on your way to full-time enrollment at an accredited university or college. We are looking for an applicant who is involved and/or interested in music and/or the creative arts in some way.
To apply for these scholarships we would like you to submit an essay, no longer than one page, letting us know about one or more of the following topics:
What are you doing in the arts/music field in your community? How and/or why did you become interested in artistic outlets? How would this scholarship money help you to progress in your chosen field?
What are your influences and/or who inspires you? Who are some of your favorite bands or artists?
Applicants are strongly encouraged to send digital links and/or provide hard copies of their artwork along with their essay (we have never had a winner who submitted only an essay). However, please be aware that Sub Pop will not return any of this material, so please don't send originals. Sub Pop will give equal opportunity to all applicants who fit the criteria outlined above. The deadline for applications is May 6th.
Please send all submissions and attachments to scholarship@subpop.com by May 6th, 2013. We will announce the scholarship winners on May 20th.
All physical submissions should be sent to:
Sub Pop Records Attn: Scholarship 2013 4th Ave, 3rd Floor Seattle, WA 98121
Amount: $6,000 / $4,000 / $3,000 — checks will be made payable to the university or college of the winning applicants' choice and applied to winning applicants tuition.
Good luck losers.
Sincerely,
Sub Pop

---
Tags: sub pop, scholarship, rock n roll, high school