Hollow Earth is currently playing:
Welcome
We are an online (streaming only) diy radio operating out of an attic public space in Seattle's Central District. We feature found sound, field recordings, story-telling, dream-collecting, radio plays, live house shows, local in-home performances and content given to us BY YOU. We support local and northwest music and other underground music from around the world. We broadcast 24 HOURS A DAY everyday.
Featured Show
One Bean Taco
Every other Wednesday, 7-9pm PST
DJ PoorWill

Program Description: The One Bean Taco Radio Show is a mixed bag of 60s Psychedelic folk, 70s Punk, 80s Glam, 90s Grunge, World, and maybe your band.

Hollow Earth Radio Blog


Posted By e_j_buster on 03/16/2013 at 01:13AM
Magma Fest weekend #3 is full of mystery and intrigue! It starts tonight at The Chapel Performance Space with one of my favorite Magma discoveries this year, A White Hunter:
And the mystery continues with Scorpio Scorpio Scorpio
and Bad Luck:
Bad Luck - May 3rd, 2011 #2 from Table & Chairs on Vimeo.
Also, Of Magic (Lori Goldston, Paul Hoskin, Dave Abramson, etc.)
---
Tags: magma fest, seattle, bad luck, of magic, a white hunter, scorpio scorpio scorpio, chapel performance space
Posted By DJ Garrett on 03/14/2013 at 05:06PM
Talking about Low Power FM & showing off our space!
---
Tags: lpfm
Posted By e_j_buster on 03/08/2013 at 08:21PM
This is tonight!!! In collaboration with Burger Records, Hollow Earth Radio's Magma Fest 2013 weekend #2 starts up at The Black Lodge in Seattle at 8 o'clock!!!
Every year I discover a new favorite band because of Magma Fest. Last year it was Special Explosion. This year it's Seattle's Weird Bug. Check out their Bandcamp page. Every song is AWESOME!!!
Also, see Shana Cleveland's critically acclaimed new band La Luz:
And the hooks continue with Dude York:
and Detective agency:
This is a show that you don't want to miss! All of these bands are AWESOME!
---
Tags: seattle, burger records, magma fest, la luz, detective agency, weird bug, dude york
Posted By DJ Garrett on 03/07/2013 at 06:41PM
Heads up high school seniors in Oregon/Washington - Sub Pop Records is offering a "Loser" scholarship to use towards "full-time enrollment at an accredited college". Take the money and run.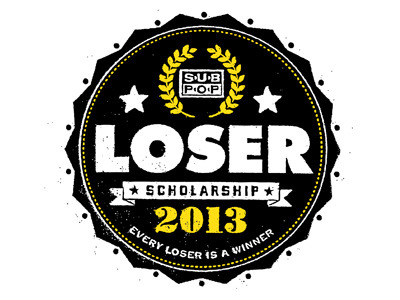 Full press release:
Hey there!
Sub Pop Records in Seattle, WA is offering a grand total of $13,000 worth of college scholarship money to three eligible high school seniors. There are three scholarships—one for $6,000, one for $4,000 and one for $3,000. To apply for these scholarships you must be a resident of Washington or Oregon, and a graduating senior on your way to full-time enrollment at an accredited university or college. We are looking for an applicant who is involved and/or interested in music and/or the creative arts in some way.
To apply for these scholarships we would like you to submit an essay, no longer than one page, letting us know about one or more of the following topics:
What are you doing in the arts/music field in your community? How and/or why did you become interested in artistic outlets? How would this scholarship money help you to progress in your chosen field?
What are your influences and/or who inspires you? Who are some of your favorite bands or artists?
Applicants are strongly encouraged to send digital links and/or provide hard copies of their artwork along with their essay (we have never had a winner who submitted only an essay). However, please be aware that Sub Pop will not return any of this material, so please don't send originals. Sub Pop will give equal opportunity to all applicants who fit the criteria outlined above. The deadline for applications is May 6th.
Please send all submissions and attachments to scholarship@subpop.com by May 6th, 2013. We will announce the scholarship winners on May 20th.
All physical submissions should be sent to:
Sub Pop Records Attn: Scholarship 2013 4th Ave, 3rd Floor Seattle, WA 98121
Amount: $6,000 / $4,000 / $3,000 — checks will be made payable to the university or college of the winning applicants' choice and applied to winning applicants tuition.
Good luck losers.
Sincerely,
Sub Pop

---
Tags: sub pop, scholarship, rock n roll, high school
Posted By DJ Garrett on 03/05/2013 at 07:16PM
Cool music series happenings going on up in Anacortes on March 23rd. Music from BROKEN WATER, LORI GOLDSTON, LOIS, Ô PAON, ALLYSON FOSTER, LLOYD & MICHAEL, JAE CHOI, DJ WEIRD CACTUS, MARIANNA RITCHEY (giving a presentation on Hildegard von Bingen). Plus dinner. And comic book workshop for girls 8-16! Full press release below:
the ANACORTES UNKNOWN MUSIC SERIES, vol. II: "OURS"
Saturday, March 23rd, 2013 4:00pm to midnight at the UNKNOWN 1202 7th St.
Anacortes, Wash. www.anacortesunknown.com
The Anacortes Unknown Music Series is the offspring of the decade- running successful summer music/arts festival called "What The Heck?". This new series is centered on a new mysterious space called "the UNKNOWN", based in an old church building in downtown Anacortes. It was born of a desire for more regular events, more frequent than the usual summer weekend blowouts (which also continue).
This "OURS" installment, Volume II, is a single day festival, an off- season event at the cusp of spring for the truly curious and the music/ art-thirsty. It's called "OURS" because it is mine and yours, to create a sense of belonging. A woman hoists a boulder on the poster to make obvious the omnipresent feeling of female strength at this event, hearty power busting through.
Performers from all over the Pacific Northwest include:
BROKEN WATER, LORI GOLDSTON, LOIS, Ô PAON, ALLYSON FOSTER, LLOYD & MICHAEL, JAE CHOI, DJ WEIRD CACTUS, MARIANNA RITCHEY (giving a presentation on Hildegard von Bingen).
The centerpiece of all What The Heck? and Unknown events is always a shared meal, and this one is no different. Included in the $25 pass is a dinner prepared by local extraordinary cook and environmental educator Denise Crowe.
Passes and information are available at www.anacortesunknown.com or at The Business, 402 Commercial Ave., Anacortes
PLEASE NOTE: We rely on pre-sold passes to determine dinner quantities so please buy your pass in advance.
The March 23rd event coincides with a 6 week long exhibition at Anchor Art Space, also called "OURS", curated by Geneviève Castrée and featuring world renowned artists from Canada and the United States. There are some related art events at Anchor Art Space: Sunday March 24th Nikki McClure will give a talk at noon. Saturday April 6th Geneviève Castrée will teach a free comic book workshop for girls age 8 to 16.
press contact: evie@thebusinessanacortes.com 360 293 9788

---
Tags: anacortes, lori goldston, the unknown, lois, Ô paon, broken water,